Phillips Screwing Down the House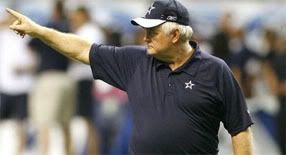 Now that we've all soaked in Michael Irvin's HOF speech and read the countless articles, its back to training camp talk. The news of the day comes from yesterday's practice and the apparent hot water some players have gotten themselves into.
Various reports have Phillips chewing out the team due to some players arriving late to practice. This is a big X on any players doing this, especially the younger rookies. But not to worry, Phillips got the team together and delivered some expletives, and anything else needed for him to get the team refocused.
Phillips didn't hold back. Apparently he had the players that were late stand in front of the team and explain why they were late. Looks like rookie FB Deon Anderson was one of the culprits, not good.
"I didn't realize when practices were starting, and coaches were flipping out," Anderson said. "I'm like, '(expletive).' Now coach is pissed off at the whole team because of what I did."
At one point it was reported that it looked like Phillips was going to punch Deon. I doubt he would punch a player, but whatever was said, I'm sure the late players deserved it.
"Then he took a step back and regrouped," Anderson said. "He said, 'This stuff can't happen. You guys have to be accountable for your actions.'"
Wow! Good job by the coach. Let's hope these players don't make the same mistake, ever.
Erroneous reports have said that this camp is a "camp cupcake" by hinting that Phillips runs a loose ship or soft practices. I seriously doubt that. As a matter of fact, I can refute that. What I saw in camp was nothing easy, players were always moving, getting coached, sprinting, conditioning; moreover, you can hear the assistant coaches barking out instructions to the players.
Bradie James commented on the matter:
"Camp has been tough," James said. "We have had more practices this year than before. But coach has been getting criticized, and for those guys to be late, he took it personal. It was disrespectful."
Tony Romo also chimed in and gave his insight to practices and Phillips:
"He will treat you like a man until you don't treat him like one by doing things like being late," Romo said of Phillips. "He will tell you about it. And if it happens a second time, he will cut the guy."
In Other News,
Terrell Owens missed camp today (Sunday). Coaches are saying they kept him out of practice due to some tightness on his back. According to Jerry Jones, it doesn't appear to be anything to be concerned about at this time:
"It's nothing structural. He just has a tight back," said Jones, who had just returned from presenting Michael Irvin for induction into the Pro Football Hall of Fame. "It's nothing that I deem to be serious at all, or we deem to be serious. … It's not something that we should be concerned about."
Its not clear if T.O. will return to practice on Monday, in which the team has a two-a-day scheduled. There are also no guarantees Owen will play against the Colts this Thursday. This could mean even more opportunities for the young receivers to get noticed and get in some much needed time with the starting teams. From recent reports, Hurd is right at the top of the pack with Crayton, and then Miles Austin and Jamel Richardson doing well recently as well.