Zeroing In On Cowboys Draft Needs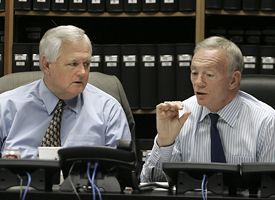 The Cowboys offseason started out slow, but the Cowboys have made some moves at a frenetic pace. The Cowboys are systematically purging out the weak links on the roster either by letting free agents walk or by releasing players. Lets take a look at significant losses and additions thus far.
Losses:
CB Adam Jones
NT Tank Johnson
LB Zach Thomas
DE Chris Canty
CB Anthony Henry
WR Terrell Owens
SS Roy Williams
OG Joe Berger
Additions:
QB Jon Kitna
LB Keith Brooking
LB Matt Stewart
DE Igor Olshansky
Of the players no longer with the team, the common denominator was value, or lack there of, which is a mixbag of aging players, average, overrated, and problematic types. We aren't losing anything much by letting go any of these players. Owens had true production, so he may be the only exception, but his supposed presence in the locker room made him expendable by ownership. Kevin Burnett will probably sign somewhere soon as well, but he too falls into this catagory.
Keith Davis is still checking out the market, but the fact that the Cowboys have not made a push to re-sign him means, he's not a must have commodity. If he signs with Dallas, then thats good for special teams, but if not, then we'll find another body.
Sticking with the theme of systematic moves, the Cowboys have made some key additions by adding a better backup QB with Jon Kitna. Keith Brooking addresses our loss of Zach Thomas, and is an upgrade at the position. Matt Stewart will be a backup LB and special teamer, DE Igor Olshansky is also another upgrade at the position. These moves alone have made the offense and defense better.
With all this being said, the Cowboys will be drafting players who will contribute and players who could conceivably move into a starting role within a year or two. Let's look at the starters, and who is upgradeable: (italics=upgradeable)
OFFENSE
QB: Tony Romo, Jon Kitna
WR: Roy Willams, Patrick Crayton, Miles Austin
Sam Hurd, Isaiah Stanback fill in the backup roles
TE: Jason Witten, Martellus Bennett
RB: Marion Barber III, Felix Jones, Tashard Choice
OG: Leonard Davis, Kyle Kosier
Montrae Holland, Cory Procter
OT: Flozell Adams, Marc Colombo
Pat McQuistan, Doug Free 
C: Andre Gurode
Cory Procter, Matt Spanos
FB: Deon Anderson
Looking at the offense, the positions that could be drafted to upgrade would be; WR, OG, OT, FB
WR has some question marks. Unfortunately, we don't know how effective the current receivers will meld together. Crayton is inconsistent, and Miles Austin is still an up and coming receiver. We could add another high pick to move into the lineup. Bad OG play sunk the offensive line last season, and I would really expect the Cowboys to make a move here for protection and possibly for a replacement. OT has an aging Flozell Adams, and a replacement will be needed soon and the current backups are not the answer, so a high pick could go here too. FB is hard to pinpoint. If Garrett wants a Moose Johnston type blocker, and punisher in the running game, then Anderson is not the answer. Last year we missed on getting Owen Schmitt, and depending on what role Garrett wants the FB to do, a true FB could be added. I like Anderson, but he's more a special teamers ace, and just an average FB.
DEFENSE
OLB: DeMarcus Ware, Anthony Spencer
Greg Ellis, Justin Rogers 
ILB: Bradie James, Keith Brooking
Bobby Carpenter, Matt Stewart 
DE: Marcus Spears, Igor Olshansky
Jason Hatcher, Stephen Bowen 
NT: Jay Ratliff
CB: Terence Newman, Mike Jenkins, Orlando Scandrick
Alan Ball, Michael Hawkins 
FS: Ken Hamlin
SS: ???
Courtney Brown, Tra Battle
Looking at the defense, the positions that could be drafted to upgrade would be: SS, DE, CB, ILB, NT, OLB
If the season started today, we wouldn't have anyone at SS. Even though there has been talk of possibly moving Hamlin to SS, and Scandrick to FS, this then causes problems for the corners. The key component of what we do in the secondary is Newman. Newman has been injury riddled, and hampered by various injuries. With another year in the bag, age looks to be catching up with Newman, so it would be more realistic to have Scandrick be the future at CB. However, if Scandrick is moved to FS, then expect the Cowboys to draft cornerback early for the very reasons I just explained. ILB could still be upgraded even with Brooking there, it doesnt look like Carpenter will be a starter here, and Brooking will play just a year or two at the most. DE could be upgraded for 2010 with the pick this year. Spears is playing in a contract year, so the Cowboys will either sign him, but if he wants more cash than Canty, we could be in the spot next year. It could be best to go ahead and draft some insurance for 2010, plus we need more depth. NT is Ratliff's job, but after him we are without a solid backup, let alone someone to rotate in to relieve Ratliff. A big NT could be added here too and give us a staunch rotation. OLB will be interesting as well, Ellis could complain his way out of Dallas here pretty soon, and how sold are you on Spencer?
Considering the factors going into the secondary, with Newman, Scandrick, Hamlin, Jenkins, and low depth, I would now say that secondary goes early in this draft. Those are immediate needs right now. Everything else drafted will be for depth, rotation, and future replacements. The secondary needs to get stablized, as we stand righ now, it is not.