Cowboys 7-Round Mock Draft Headlined by DT Aaron Donald
The NFL Combine is over and we are now one step closer to the NFL Draft. The Combine helped solidify what we already knew about some players, but it also raised questions about some as well. If Will McClay is bridging what the Cowboys Coaches want and need, then I expect them to get some more speed on the field. I'm doing this latest mock draft under the assumption that DeMarcus Ware will be back in 2014.
So, let's go to my 7-round mock draft 2.0: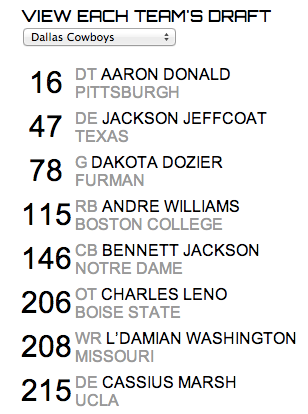 Let's talk about my selections.
1st round (#16): Aaron Donald, DT, Pittsburgh
Going into the Combine Donald had already racked up every major defensive award out there, and his play backed it up. A solid Senior Bowl was icing on the cake, but then came the Combine and he put on a clinic. This player knows what he is doing, he's clearly committed to his craft and ready to showcase his skills at the next level. As I stated earlier, if Ware is still with the Cowboys, then adding Donald could be a huge boon for the defensive line. The Cowboys are looking for some more speed on the field, and for a big guy, Donald can move. The biggest question is whether or not Donald has put himself into position to being drafted before #16 – he may have.
2nd round (#47): Jackson Jeffcoat, DE, Texas
Jeffcoat is an intriguing prospect for me. I've see a few of Texas' games and he was an impact player, but not in every game. I think with the right coaching Jeffcoat can be what his father was and perhaps better. Marinelli and Lett can get the most out of Jeffcoat. He has the bloodline, and has shown he can be menacing on defense. With questions around Ware's health and Spencer likely gone, its time to get some legit players at defensive end. Jeffcoat actually had a very nice Combine, exhibiting speed, and explosiveness.
3rd round (#78): Dakota Dozier, OG, Furman
Dozier was another player I liked at the Senior Bowl and he had very good Combine, it wouldn't surprise me if he went in the 2nd round or early 3rd round. The offensive line appeared to stabilize last season, but the line could be one injury away from disaster. Depth or lack of quality depth has haunted the Cowboys on both sides of the ball. So, with Dozier still on the board, the pick is made and he'll eventually be  ready to start in case of an emergency and he'll start in year 2. He's played several spots on the line and his versatility will be attractive to Dallas. On top of his versatility, Dozier has been durable and this is an area Dallas needs to focus on.
4th round (#115): Andre Williams, RB, Boston College
I don't think the Cowboys will be re-signing Murray considering his consistent injuries. He's been good when he's in the starting lineup, but he has yet to finish a season, and he won't this year either. We took Joseph Randle in the 5th round last year, but with Williams still on the board I took this pick. Williams would be a good change of pace back with Murray, Randle and Williams. I'm not penciling in Dunbar as he can't stay healthy, and Tanner is a FA; neither, have had any consistent impact in the running game. Williams will give us a durable back, and some physicality.
5th round (#146): Bennett Jackson, CB, Notre Dame
Cornerback is a position I can see the Cowboys taking in any round. You can never have enough defensive backs. With questions marks around Claiborne, it'll be best for us to have some more depth at CB. Scandrick played very well in Claiborne's absence, but as a result the nickel corner play suffered immensely. B.W.Webb was a disaster. We have an issue with depth at corner. Bennett had a solid career at Notre Dame, and can grow into his position in Dallas. Being a part of some good defensive squads over the years at ND it should help Bennett play at a high level right out the gate. He has all the measurables to be an impact role player on defense.
7th round (#206): Charles Leno, OT, Boise State
I'm not so sure Leno would last into the 7th round, but in this simulation he was still on the board, so I snatched him up. Leno played RT during his three years as a starter and has the physical tools to work himself into a role. He has some quickness and durability which should make him attractive to any team out there looking for some stability at the offensive line. Leno put together a solid Combine as well.
7th round (#208): L'Damian Washington, WR, Missouri
I wouldn't be surprised if the Cowboys took a WR somewhere in this draft. Garrett likes to keep the competition churning at the wideout position, and this year will be no different. I don't think we can get complacent with Beasely and Harris at #3WRs on this team. Beasely has shown some flashes, as has Harris, but they'll want to add some more players into the mix especially after we officially let go of Austin. Combine info here.
7th round (#215): Cassius Marsh, DE, UCLA
Last pick in this mock draft added another defensive end in Marsh. If you saw the East-West Shrine game you'll remember Marsh. He had a solid game and brought the pressure. Again, this player has some speed and explosiveness, something I think the Cowboys are really looking for in Marinelli's defense. Speed has been a cornerstone in a lot of his defensive players over the years, and adding Marsh into the fold would be a steal this late in the draft. I'm not sure he'll last this long, but this is a pretty deep draft, so who knows. Combine info here.