Offensive Tackle a viable option with the #16 Pick
If you're like me, you're constantly scouring the internet with the latest news on the draft and all the scenarios that are out there. For the most part many of the post-Combine mock drafts that have come out in recent days have Aaron Donald, DT, Pittsburgh going to Dallas. You also have a few pundits penciling in Timmy Jernigan, DT, FSU and one of the top two safeties.
What we haven't seen is an offensive pick at #16. We haven't seen an offensive lineman, wide receiver, or tight end penciled in to us. But, hold the presses. Our good friend over at NFL.com / NFL Network, Charles Davis offers up a curve ball by most standards, considering how much the defense needs help. Davis just released his Mock Draft 3.0 and he gives us Zack Martin, OT, Notre Dame. At first glance you may dismiss this pick and call it crazy, but isn't this what Jerry Jones has done to us so many times in the first round?
Davis on the pick: He was lost in the shuffle in Indy, but Martin is a really good player who can play guard and maybe center, too.
We know the Cowboys value versatility in their offensive lineman and Martin does fit that bill, and he is a blue chip, day one starter. If we went by Davis' mock, then we would assume that Martin would be the heir apparent to Doug Free who will be a free agent after this season. When the Cowboys reworked Free's contract they left two optional years at $8 mill / season – that's not going to happen. So, if you're Dallas you have to be thinking about getting a starting quality RT for the following season somewhere in this draft possibly. You don't want to overspend on a free agent RT next year.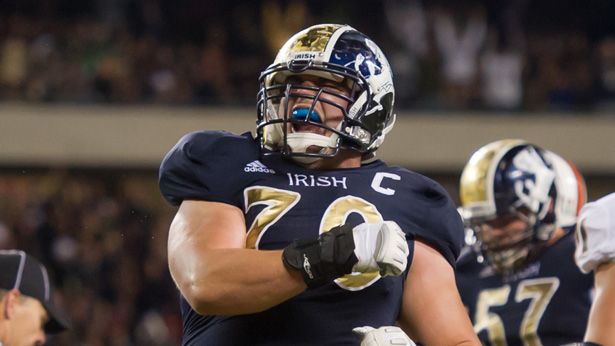 However, if the Cowboys did go with Martin at #16, they had better hit on defensive line in the 2nd round, or that move could be disastrous for the current season. I'm not saying I agree with Davis' pick, but it is a logical pick from the standpoint of looking to continue to build the offensive line and have it completely rebuilt after this season. They would probably bounce play with some rotation the remainder of the offseason to see where Martin would line up. He would go at RG or RT obviously. If you could pick up Martin at #16 and a player like Scott Crichton or Jackson Jeffcoat you could come out ok.
This is exactly the type of scenario I think the Cowboys would pull during the draft. As fans, we get fixated on one or two players and when the draft comes, we are completely flabbergasted at the selection. Well, I could totally see the Cowboys doing this exact type of move. The wild card this year will be Will McClay, we are under the impression that he will build the draft board and he will be a key cog that will keep Jerry from going off script and passing on a player ala Sheriff Floyd from last year's draft.