Only Extend Oft-Injured DeMarco Murray for Cheap
So, the latest rumblings and rumors indicate the Cowboys may be thinking about extending DeMarco Murray. And I ask why? If the Cowboys are looking to reverse their bad contracts over the past years then extending Murray would not make sense at all. Supposedly there are "whispers" that a deal could be in the works. Here's something that is not a whisper, but rather loud and clear: Stop extending broke down players that cannot stay healthy worth a lick! How many seasons have the Cowboys been doing good enough in the running game with Murray and then like clockwork he pulls up gimpy? and then there goes the latter part of the season. I'll pass man, I'm passing on this, I'm selling, not buying. I like the player when he is healthy, but man, we can't count on him. He's the running back version of Miles Austin. Let Lance Dunbar and Joseph Randle show us what they have, open up the game for them.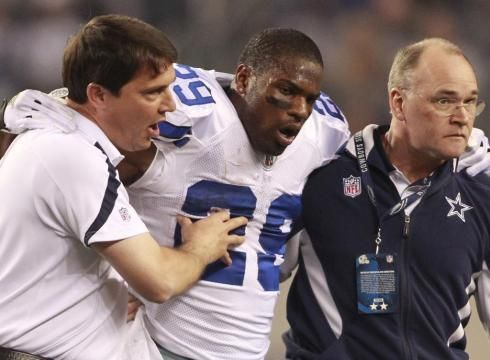 The only way, I'm extending Murray is if can prove he can play a full season this year, and I'm still going to be looking for a cheap deal. Gone are the days of the overly paid running back contracts. Archer, over at ESPN suggests that the running back market is so low that the Cowboys could lock down Murray for 3 yrs. If the Cowboys are in fact looking at giving Murray a new deal, it had better be a smart deal, and something that protects us from his frailness.