Which NCAA Conference do the Cowboys prefer to Draft from?
With the draft just five weeks away, I wanted to take a closer look at the way the Dallas Cowboys draft. This took me a couple of days to break down, but the data is pretty telling.  In particular, I wanted to see from which NCAA conference the Cowboys like to draw players from over the past 10 draft classes 2003-2013. We'll look at the Parcells, Phillips, and Garrett eras. Let's start with 2003 and Bill Parcells:
Bill Parcells 2003-2006
BIG 12: 3
BIG 10: 5
SEC: 8
BIG EAST: 4
ACC: 2
SBC,MEAC,INDEPENDENT,BSC,GAC,PAC 10,SWAC: 1
Parcells loved the SEC over any other conference, and he was able to pull some quality guys in starting roles from the SEC. The Parcells era used most 1st selections on defense (3) and (1) offense on Julius Jones in the 2nd round. It was no surprise that Parcells would use his early picks on defense, he was defensive minded and it also had to do with the Cowboys building up the 3-4 defense with DeMarcus Ware being the centerpiece
Wade Phillips 2007-2010
ACC: 4
BIG 10: 2
BIG 12: 6
BIG EAST: 4
MAC: 3
PAC 10: 4
GWC,SEC,WAC,MVFC, MWC,INDEPENDENT,PSAC,SBC,CAA: 1
Wade Phillips was a BIG 12 coach, and as you can tell, the Cowboys only reached into the SEC one time over Phillips' four years. Phillips era used 1st selections equally (2) defense and (2) offense. Philips' best draft picks were Anthony Spencer, Dez Bryant, and Sean Lee. Unfortunately, perhaps the worst draft class in Cowboys history, the 2009 class was under Phillips' tenure.
Jason Garrett: 2011- current
ACC: 3
BIG 10: 2
BIG 12: 4
SEC: 3
PAC 10,MVFC,MAC,MWC,BSC,C-USA,Southern Conf, CAA: 1
Garrett era used 1st selections on offense (2) and (1) defense on Morris Claiborne. All (4) of Garrett's BIG 12 selections have all been offensive players. Garrett's best selection has been Tyron Smith.
A granular look at the Cowboys draft over the past 10 draft classes:
ACC: 9
BIG 10: 9
BIG 12: 13
BIG EAST: 8
BSC: 2
CAA: 2
C-USA: 1
GAC: 1
GWC: 1
INDEPENDENT: 2
MAC: 4
MEAC: 1
MWC: 2
MVFC: 2
PSAC: 1
SBC:2
SEC: 12
SWAC: 1
Southern Conf.: 1
WAC: 1
1st round picks: 5 picks for defense; 4 picks for offense (No 1st pick in 2004/2009)
DE/OLB: DeMarcus Ware, Anthony Spencer
CB: Mike Jenkins, Morris Claiborne
OL: Tyron Smith, Travis Frederick
RB: Felix Jones
LB: Bobby Carpenter
WR: Dez Bryant
Which NCAA conference do the Cowboys like to draft from?
Over the past 10 draft classes, the Cowboys have drafted the most players from the BIG 12 (13) The SEC is a close second with (12); The BIG 10 and ACC each with (9) respectively.
The Cowboys have gone to the BIG 12 (11) times for offense; (2) defense
The Cowboys have nearly gone to the SEC for both offense and defense equally. (5) offense and (7) defense
So, these are some eye opening stats. If you are like many of us looking to build a mock draft, it would be wise to freshen up on those BIG 12 players and I'm talking for offensive players, that's a hot bed for us when drafting offensive player. The Cowboys are a bit more level when it comes to the SEC. Below are a player by player breakdown from the conference's we have taken the most players from. Outside of the Big 12, the other conference's have been drafted close to equal between offense and defense.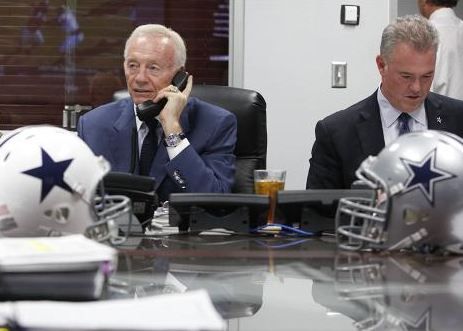 BIG 12
Offense:
7. Justin Bates, Colorado (BIG 12)
7. EJ Whitley, Texas Tech (BIG 12)
2. Martellus Bennett, Texas A&M (BIG 12)
4. Stephen McGee, Texas A&M (BIG 12)
7. Manuel Johnson, Oklahoma (BIG 12)
1. Dez Bryant, Oklahoma State (BIG 12)
6. Jamar Wall, Texas Tech (BIG 12)
3. Demarco Murray, Oklahoma (BIG 12)
6. James Hannah, Oklahoma (BIG 12)
3. Terrance Williams, Baylor (BIG 12)
5. Joseph Randle, Oklahoma State (BIG 12)
Defense:
1. Terence Newman, Kansas State (BIG 12)
4. Brandon Williams, Texas Tech (BIG 12)
SEC
Offense:
3. Jason Witten, Tennessee (SEC)
3. Stephen Peterman, LSU (SEC)
4. Sklyer Green, LSU (SEC)
1. Felix Jones, Arkanasas (SEC)
7. Shaun Chapas, Georgia (SEC)
Defense:
4. Bradie James, LSU (SEC)
4. Bruce Thornton, Georgia (SEC)
1. Marcus Spears, LSU (SEC)
2. Kevin Burnett, Tennessee (SEC)
7. Jay Ratliff, Aurburn (SEC)
1. Morris Claiborne, LSU (SEC)
6. Devonte Holloman, South Carolina (SEC)
ACC
Defense:
4. Chris Canty, Virginia (ACC)
5. Pat Watkins, Florida State (ACC)
5. Michael Hamlin, Clemson (ACC)
2. Bruce Carter, North Carolina (ACC)
4. Kyle Wilber, Wake Forest (ACC)
Offense:
4. Tashard Choice, Georgia Tech (ACC)
6. John Phillips, Virginia (ACC)
5. Danny Coale, Virginia Tech (ACC)
3. James Marten, Boston College (ACC)
BIG 10
Defense:
6. BJ Tucker, Wisconsin (BIG 10)
7. Jacques Reeves, Purdue (BIG 10)
1. Bobby Carpenter, Ohio State (BIG 10)
1. Anthony Spencer, Purdue (BIG 10)
2. Sean Lee, Penn State (BIG 10)
Offense:
2. Al Johnson, Wisconsin  (BIG 10)
4. Marion Barber, Minnesota (BIG 10)
7. Bill Nagy, Wisconsin (BIG 10)
1. Travis Frederick, Wisconsin (BIG 10)