Roster Cuts Irrevelant, Roster Remains Thin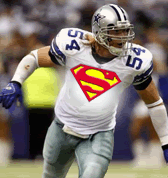 Cowboys Nation has hit its first crossroad before the season even starts. In fact, I would say 50% are unsure if we can win against the Giants with the roster we have right now. The main concern is CB and LB.
Some fans cannot believe Glenn is gone? and I ask why? Neither Glenn nor Reeves or any of the other backups have quality skills to be a #2CB in relief. Now we're in trouble. Some people say "don't panic"…get real. Its time to worry. And if you think we can fill some of our inadequacies from the waiver wire you're dreaming. I've looked, and there's nothing out there. Even if there was someone out there, you're taking someone that another team had all offseason and in the end did not like for whatever reason.
No, the waiver wire is not the way to go. Unfortunately, the only way to get some help is via trade. There's rumors swirling that Marcus Spears is on the trading block, but nothing has manifested yet.
Linebacker is also paper thin. You can't count on Burnett, he's injured all the time, its becoming detrimental to the team. Ellis is the great unknown, who knows anything about Ellis, anything solid on this guy? No one seems to know anything about his status. Spencer is slated to start, and Carpenter will probably relieve the MLB and OLB on opening day, and special teams…Superman or what? What the heck is going on here??
No one is going to be happy about the roster right now, but either way you slice it, if we would have kept "this guy" over "that guy" is irrelevant. We simply don't have quality, championship depth. When you make cuts on a quality roster, it should be easy to see who you are keeping. We shouldn't have to be sacrificing one position for another, and that's the situation in Dallas right now. You need depth if you want to make it down the stretch. The best teams out there have quality depth at various positions.