Interviews Ongoing: HOF Bruce Matthews, Dan Campbell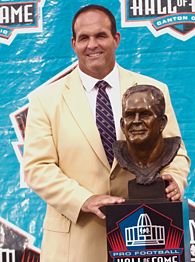 The Cowboys filled the defensive coordinator position by snagging up Rob Ryan, but the Cowboys are not done filling out the coaching staff. Dan Campbell is set to interview for a second time, so looks like he may be added as a tight ends coach to help alleviate John Garrett, and allow Garrett to be more involved in the coordinating aspect of his job.
Hall of Famer, Bruce Matthews also interviewed for an offensive line coach position. Could Houck be on the way out, or will Matthews work as an understudy and takeover the following year. This move would definitely be a great move by Garrett. If the Cowboys want to get back to their mauling ways of the '90s, then Matthews could be the man to jump start that style. Matthews style was well regarded and respected during his years for the Houston Oilers, big on finishing blocks and grinding it out. Good move here if Dallas lands Matthews.